Homeschool Mastery Academy is dedicated to recommending quality resources to benefit homeschooling families. This blog contains and is monetized through sponsored posts and affiliate links. Please see our full disclosure policy for detailed information.
Why 1THRIVE Is The Best Wall Calendar To Meet Your Family's Needs
Long gone are the days of ugly calendars and mismatched command centers. Now, don't get me wrong, I love a well-organized family command center! But if you aren't careful, they can easily resemble a Pinterest fail despite our best efforts. 
We have all been there; we desperately want to be organized and have a polished-looking command center in our homes. Like so many of you, I have tried multiple ways to manage our life and family over the years with calendars, printables, DIY command centers, and more. I eventually gave up on all of them. Why? They were ugly or too challenging to keep up with. 
Also, like you, I wanted something functional for keeping up with dates, commitments, and organizing our homeschool family. Plus, I want it to look pretty! Seriously, why is it so hard to find organizers and wall calendars that blend with your home and personal style?
That is why this mom is loving 1THRIVE! It is a customizable system that will change the way you organize forever. If you also crave an organized life and style like me, let's chat because you will love this!
1THRIVE Meets Your Family's Organizational Needs
Before I gush about how much I love my own new 1THRIVE organizational wall calendar system, I want to share with you how it can meet any family's needs out there. 
Because the 1THRIVE system can be customized and has plenty of designs that are ready to use, there is literally no family on the planet that it won't work for. There are unlimited combinations for how you can customize a wall organizer to meet your family's needs.  
There are plenty of sizes and add-on pieces to choose from too. So whether you are a homeschool family, a family with a mom working outside the home, or whatever your unique situation, 1THRIVE can accommodate you.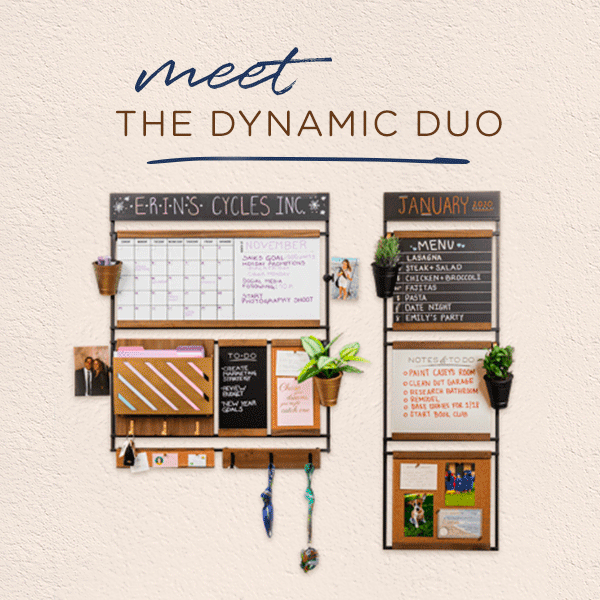 In Case You Think 1THRIVE Is Too Spendy 
I know some of you may be thinking that a 1THRIVE wall calendar is out of your budget, but you need to change your mindset. The 1Thrive calendar is an investment and a smart one at that! 
Once you invest in a 1THRIVE system that fits your space and needs, you will begin to save money. Yep, it's true. I have already realized that I am saving by not buying new calendars each month and trying new ways to organize because we simply couldn't find one system to meet all of our needs. 
Not only have I saved money, but undoubtedly I have saved time. Time is such a precious commodity for moms too! And, 1THRIVE wants you to do that exactly, THRIVE. They have genius time savers for moms like premade monthly decals, so you don't spend a minute obsessing over how to make your handwriting look its best. You can change out each month with a beautiful decal in your choice of fonts. 
Another big reason to consider investing in a 1THRIVE system is that it is so versatile. Any mom knows that your family's life adjusts from season to season, and this system can sustain that. Since you can move the pieces around to configure new layouts of your 1THRIVE system, it's super easy to switch up how you are using it. 
You can tweak your system from life stage to life stage, and it will still serve you well. Many of us have experienced outgrowing a planning system; what worked when you had toddlers simply won't work when your kids are teens. But with 1THRIVE, you can make a few quick adjustments instead of buying a whole new system to organize your family.  
How Do You Choose Which 1THRIVE System Will Work For Your Family?
This is a tricky question, and I looked at all the different 1THRIVE systems for a while before deciding. So here are some tips to help you choose wisely. 
Find A Central Location: 

This won't apply to you if you plan to hang your new system in a workspace at home or private bedroom. But, if you plan to use it as a family command center for all to see, pick a central location or area that all of your family frequent. I chose a wall space on our way to the front door and right outside of our homeschool room. Our home has an open floorplan downstairs, so that limits the available wall space. But it fit perfectly, and I am glad I chose the area. Our 1THRIVE system is visible to everyone, and they pass it on the way out the front door. There is no way my family can miss it, and they can jot down events or reminders on the calendar too. 
Measure Your Space: 

As you decide on your new 1THRIVE system, grab the measurements from their website to first map out where you would like it to go. I chose The Casey, and it needs a good size wall space, and I am so glad I measured beforehand because it fits perfectly inside my blank space. 
Brainstorm How You Will Plan: 

I know! It sounds funny, but it works, and it's easy to do. Take a notepad or sheet of paper and jot down your family's organizational needs. How will you use it? Do you need a place for keys, unopened mail, and space for menu planning? Calendar or blank whiteboards? I chose The Casey because it had a corkboard, a calendar, and a to-do list. We were using those things already, but they were scattered around and not working that well because they weren't as visible as they could be. I can tell you that having all of my planning elements in one neat space helps me be more organized and makes me feel better. There is no other way to explain it, but I feel good when things are organized and well-run. 
Think Style:  

1THRIVE is

 

not only super functional; it's stylish! I completely love organizational items that blend right into my home décor. That's another reason I chose The Casey, the mirror.

 

I knew I could play on the mirror aspect to brighten up that space a little, and when there is a knock at the door, I can quickly check my crazy-mom bun before opening up! I told you it's functional and stylish. The 1THRIVE products are so lovely to look at that they easily mesh into practically any décor. 
1THRIVE Is Easy To Assemble & Super Functional 
The 1THRIVE was so easy to hang and took maybe 10 minutes out of the box. All you have to hang is the frame, and everything else just hooks on the frame. So smart! 
I also wanted to touch on the functionality. You don't have to worry about hanging it in a place that you can reach it to write because each piece is removable. Yes! You can remove the calendar or whiteboards to get a better position to write, which helps get everything printed neatly. 
Other than the corkboards, most all of the other pieces are magnetic. Not to mention that they clean so easy; all you need is a damp paper towel to wipe them clean and start over. You will also love the 1WRITE liquid chalk markers! They glide so smoothly and don't write ugly and overly thick like many other chalk markers I have used in the past. 
Ease Into Using Your New 1THRIVE Wall Calendar
Here comes the fun part, using it! 
I had to keep myself from overcomplicating the new system by throwing up some of my old planning items. Instead, I decided to take a few weeks and organically see how we used it. I did this by starting with the essentials only, the calendar. After that first few weeks, I added more to it. 
Eventually I bought the monthly decals to save myself the time and stress of making my handwriting look perfect. I bought some magnets and push pins that coordinated with our style. After adding a few of those personalized touches, I loved it even more. If you appreciate organization and style, you will realize how lovely it is to look at. 
We began adding notes to each other, to-do items for the week, and all of those little things that families do. The 1THRIVE wall calendar has become an actual family command center now, and we are all so impressed by how much more organized we are. We consider ourselves an organized family, but 1THRIVE helped us level up our organizational game. 
So whether you are an organization pro or you desperately need to get organized, you will be thrilled with the new 1THRIVE system. No matter how unique your family lifestyle is, 1THRIVE has something for you. 
Use Coupon Code homeschool10 for 10% OFF Any Wall Organizer. Don't Forget to Enter to Win One Below!
Follow 1THRIVE On: