Homeschool Mastery Academy is dedicated to recommending quality resources to benefit homeschooling families. This blog contains and is monetized through sponsored posts and affiliate links. Please see our full disclosure policy for detailed information.
Fun Activities for Students That Will Expand the Mind
Not all crafts and activities are created equal! Sometimes the best possible crafts to use in your classroom or homeschool are the ones that double as exciting and educational. We have ten crafty and fun activities for students that they are sure to love.
We hope you and your children have a memorable time creating and learning together! For more activities to enjoy together check out 25 Outstanding Crafts and Activities Based on the Best Children's Books, 20 Activities For Bored Kids They Are Sure To Love, and One Year of the Best Pre K Homeschool Hands-On Activities.
A new homeschool year is right around the corner!
Many homeschool moms are busy preparing and finalizing curriculum choices for the upcoming school year.  And some homeschoolers are trucking on through the summer months as one school year flows into the next.  Whatever camp you are in, you're bound to need new homeschool curriculum, and winning a gift card to a major online homeschool retailer would surely help you check some things off of your curriculum wish list.
We are teaming up with some other great homeschool bloggers to bring you a HUGE gift card giveaway to Rainbow Resource Center.  We will be blessing TWO homeschool families with a $250 for you to use on curriculum, books, games, puzzles, or whatever educational supplies you might need!
We know homeschooling can put a financial strain on families – whether it's from living on one-income or buying curriculum for multiple children – the financial aspect of it can be stressful.  Our hope is that we can bless a couple of homeschool families (although we wish we could bless many more) so they can buy the curriculum and supplies they need.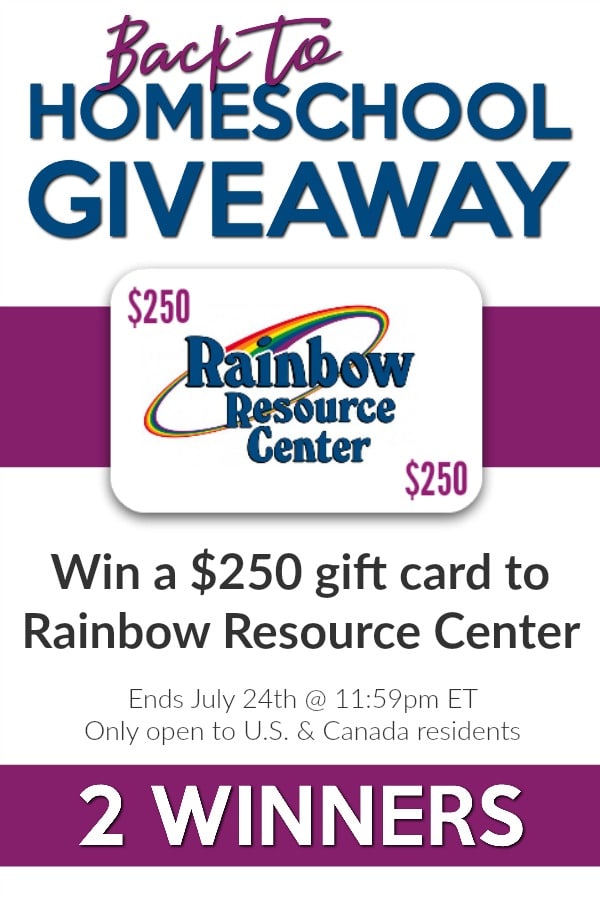 >>>GIVEAWAY<<<
To enter for your chance to win, simply use the Rafflecopter form below to enter.  We know that is quite a few entries for you, but each of these bloggers has generously chipped in their own money to make this giveaway possible, so I hope you will take the time to do all of the entries.  And the more entries you do, the better your odds are of winning!
Giveaway ends July 24, 2019 at 11:59pm ET.  Must be at least 18 years of age.  Must be a resident of U.S. or Canada to enter.  Selected winners will have 48 hours to respond to email notification to claim their prizes or another winner will be drawn.  By entering this giveaway, you agree to be added to the email lists of the participating bloggers (see the Terms & Conditions on the Rafflecopter form for the complete list).